Time: 12:00pm PST
Date: 4/24/2021
Place: ORE
Event: Elections Phase Numero Cuatro
Today we are finally starting everyone's favorite time election season, Voting! Below you will find a list of candidates you can vote for as well as instructions on how to vote. You will be voting in-game. When you are voting, all chat is disabled, you will not be able to send or receive chat messages [besides irc] while filling out your ballet.
Nominees:
_zebek
ArimB1000
ChocoFluff
Carlsone aka Oscar91
DMVerfurth
Don_Manuel_1229
IAmLesbian
konsumlamm
Kuggo
LAM678
Sammyuri
StackDoubleFlow
As a reminder , all shit posts and posts not made by staff or one of the nominees will be deleted.
As a second reminder, these are the phases for the current Election;
Phase Numero Uno: Nominations
Phase Numero Dos: Audits
Phase Numero Tres: Acceptance [RIGHT NOW!]

Details: Post below if you Accept of Decline nomination. Optional; add something short about you wanting mod or why you would be a good mod.

Phase Numero Cuatro: Voting - Ends May 8th at 11:59pm PST

Details: Vote in-game using the /vote command, details and instructional video are below.
NOTE: Students will not be allowed to vote in the election. So hurry and get Builder if you would like to vote.
NOTE 2: Voting will be done in-game using a new plugin from Nickster.

Phase Numero Cinco: Tally Up

Details: Ranked Choice Voting

Phase Number Seis: The Great Reveal

We reveal the results of the election and we welcome the new moderators.
The following video was recorded by Nickster to demonstrate how to vote.
To start voting, do /vote
You will order your ballet using the Up and Down arrows. You may remove someone from your ballet by either moving them all the way to the bottom and clicking the down arrow again, or clicking the red X next to their name.
When you are done voting, you must click the green checkmark on the top right of the voting menu.
From there you may either cancel your submission and edit your vote by clicking the gold line of text saying "Click here to modify your ballot".
Once you are happy with your ballet and you have clicked the green checkmark, you must run /confirmvote in order for your ballet to be cast.
NOTE [again]: During voting, all chat will be disabled except for IRC, as such… If you'd like to cancel your current vote and go back to chat, click the red X in the top right of the voting menu.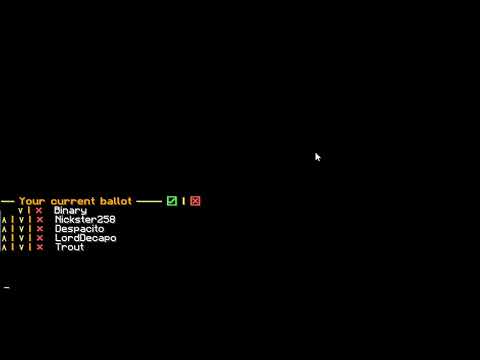 TLDR; We are starting the Voting using an in-game plugin from Nickster. Video and instructions are directly above. Use /vote to cast your vote. Voting ends May 8th at 11:59pm PST.