User(s): 75rx
When: The past 8 months
Description: As you all know, 75rx has repeatedly harassed people for random things and openly shares hate toward some members of the community. These are a few things that have been directed at me, or other people that I would like to share.
I will start with hate towards me.



Here I had simply said I don't like pistons. (a simple opinion)
He then started just using it as a way to express his open hate towards me.


Again, just hating on me for practically no reasoning other than wanting to anger me.


This is another from around 3 months ago.
Here is where I start hate and implied hate toward other people.


Here he is talking about how he hates mess for "getting him banned" when mess did nothing wrong and was harassed by him.


This just supports my last description. Also just straight up blaming his actions on others.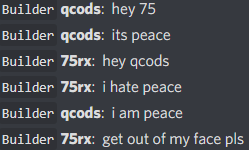 This is him just hating on one of the youngest in the community, qcods. (previously Peace)

This is him hating on a member of our community, Boopy. Also implying he has a list of hated members!?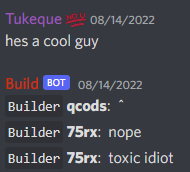 Again expressing hate for Boopy and harassing him.

This is him implying that he wants Boopy's plot deleted.


Here he is commanding me not to talk with Boopy, he also CLEARLY does not understand meanings of words here.


Here he is openly expressing hate toward q2ck.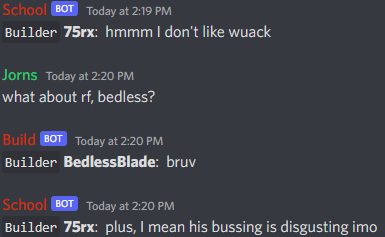 This was today, I simply said I don't like pistons.
He took this and started talking about how that means I hate q2ck, jorns, and rzecs. (q2ck I am incredibly fond of)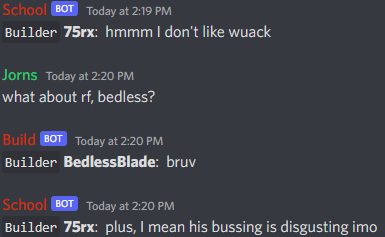 Here to he is hating on random things q2ck works on.


Here he contradicts himself from the last one slightly.


Here is where he talks about how I "hate" q2ck because of me not liking pistons.


Here he yet again contradicts himself.
He also just brings up unprompted things all the time which are occasionally offencive.
Now, the current system we use for punishment is ok, but it is not working which is sad for this member. I'm very sad for them if they go out into the world like this and never learn. Nonetheless, something has to be addressed. This will never slide in real life and he could get in serious trouble for things like death threats in real life, or offencive things. When I discussed this he just played it off as he would just yell "L" in real life, clearly showing he does not take that seriously. He also just repeatedly contradicts what he says to try and get out of trouble or to get someone else in trouble, he needs to learn that these things will never slide. I feel very bad about it because these things could change his life for the worse.
                                                                              No hate intended,
                                                                                                                 -BedlessBlade