*topic here because no staff members were online at the time and this includes screenshots
User(s): Samwej and RavenRain44
When: Samwej = right now, RavenRain44 - 7 days ago
Description: While I was chilling on survival, hoping to get a villager that trades protection 5 books, I saw Samwej hop on the network. I was quite happy because Samwej was an awesome player back in November 2021, who's very inactive on the server. The player manually decided to hop on ORE survival.
Because this player was a good guy, I decided it would be a good idea to tell him the coordinates to my house which is far away from the spawn, but little did I know it was a mistake.
Once the player arrived to my house and me minding my own business with maximum hope to get protection 5 or 4 books from a villager, he took golden axe/full golden armor/iron sword/mutton/apple from my chest, never informing me. I noticed he got full golden armor and was puzzled, because this player was new to the server and I got a welcome message shown when he joined the survival server.
So just in case, I decided to check if someone has stole stuff from my chests that contain dozens of valuable items. Those are my property only, there's no sign indicating that these things are all free.
And guess what? I found that Samwej stole a lot of stuff from me. I told him to put it back and he pretends he didn't take anything. Eventually he did put some stuff back to the chest, although some things he already wasted, like 2 poppies.
I did also show him my villager cave, but he stole a diamond helmet from me not even informing me, and I realized he did a crime and told him to put it back, also pretending he didn't, but little did he know there's a thing called co /i.
The diamond helmet is a really valuable thing here, because villagers sell them for like 30 emeralds, and this is quite a lot.
I did not inform him once… but like 3 times that this is my private property, and eventually on the entrance to my villager cave, he put this sign: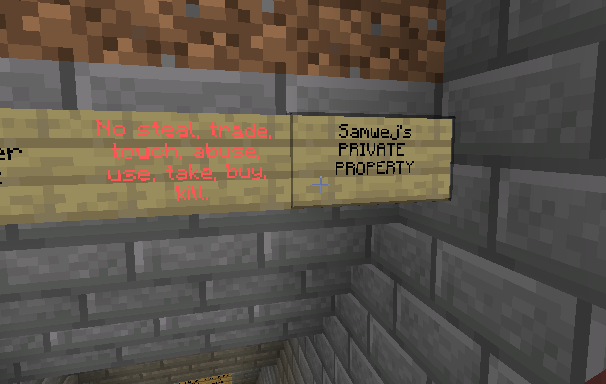 and removed the sign with red text (which I had to place again, quite painful).
Things that I noticed he stole:



him stealing my apple and a random guy I've never saw named RavenRain44 randomly finding my base and stealing all my wheat:


Samwej would also randomly join and while I'm AFK, he would punch me, a really annoying and cringe behavior.
So I'm not expecting a guaranteed punishment to be applied on the player, it's just something the staff needs to decide, since such robbery is a really bad thing, especially if it happens on multiple players.